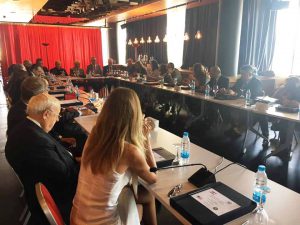 (Beirut 16-17 June, 2017)
Within the objective of enhancing the capacity of the Lebanese judiciary to fight trafficking in persons crime, a training workshop was organized for a group of judges and prosecutors from the Mount-Lebanon governorate on the 16th and 17th of June in The Small Ville Hotel, Beirut.
The opening session was attended by high level participants, namely the President of the Higher Judicial Council, Judge Jean Fahed, the President of the Criminal Chamber at the Court of Cassation, Judge Suheir Harake, and the trainers; in addition to the first president in the Mount-Lebanon governorate, Judge Nassib Elia.
The workshop included presentations on several topics, namely the elements of the human trafficking crime and its distinction from other types of crimes, the domestic and international legislative frameworks of human trafficking, as well as the best practices and international experiences in the field of combatting trafficking in persons crime.
The sessions witnessed deep and interesting discussions, mainly around the shortcomings of the national legal framework and the required modifications to ensure conformity with the key relevant international instruments.