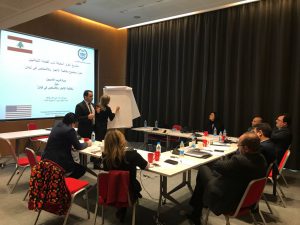 (Beirut – Smallville Hotel, 14th and 15th of December, 2017)
Within the context of the project on "Improving Capacities to Fight Human Trafficking in Lebanon", one 'Training of Trainers' session was held on the 14th and 15th of December 2017 at the Smallville hotel.
The session brought together an expert group of specialized judges and prosecutors and featured the presentation of modern training methods and tools, including interactive training methodologies. The session also covered ways to organize and design training sessions and a variety of practical training applications.