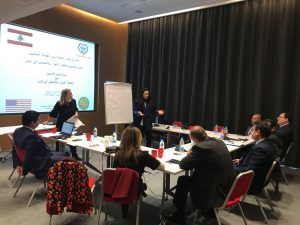 (Beirut – Smallville Hotel, 10th and 12th of January, 2018)
Within the context of "Improving Capacities to Fight Human Trafficking in Lebanon" a second 'Training of Trainers' session was held non-consecutively on the 10th and 12th of January 2018 at the Smallville hotel which featured the participation of the expert group of specialized judges and prosecutors.
During the session, a comprehensive overview of the topic of trafficking in persons was undertaken. In addition, several practical applications and training exercises on modern training methods were implemented on TIP-related topics.